Gazebos in Calgary Available In-Store & Online
Enclose your hot tub and enhance your spa experience, plus keep yourself protected from the elements with a gazebo. Paradise Bay carries a vast selection of gazebos for Calgary, specially designed to house your hot tub, spa or patio furniture and protect it from extreme weather conditions. Easy to assemble, with beautiful designs and excellent craftsmanship, the gazebos we carry can easily become the centrepiece of your backyard.
Shop All Kinds of Gazebos & Solariums
Outdoor Gazebo
Perfect for a remote spot on your lawn, outdoor gazebos provide a light, soft-topped shelter for activities outside the reach of your home exterior.
Patio Gazebo
Patio gazebos are perfect for adding shelter to your home's patio, so you don't need umbrellas or awnings from your home exterior.
Outdoor Solarium
Build your three-season room for your outdoor spaces with robust weatherproofing. These structures are the sturdiest options for sheltered outdoor living.
Enclosed Gazebo
Our selection of enclosed gazebos will keep your hot tub, grills, or outdoor spaces highly resistant to all harsh weather and make winter hot tubbing much more efficient.
Hard Top Gazebo
Hard top gazebos with open, semi-closed or enclosed options keep hail, rain and snow from falling directly into your outdoor living space.
Hot Tub Gazebo
Hot tub gazebos allow you to enjoy your bathing experience without worrying about sunscreen or umbrellas, and they're designed to integrate with any hot tub.
Delivered Straight to Your Backyard
Outdoor living requires the right shelter, and we're ready to show you the best first step to shrugging off everything Calgary weather can throw at you. Browse our broad collection of gazebos which come in various styles and sizes to suit and enhance your unique outdoor décor.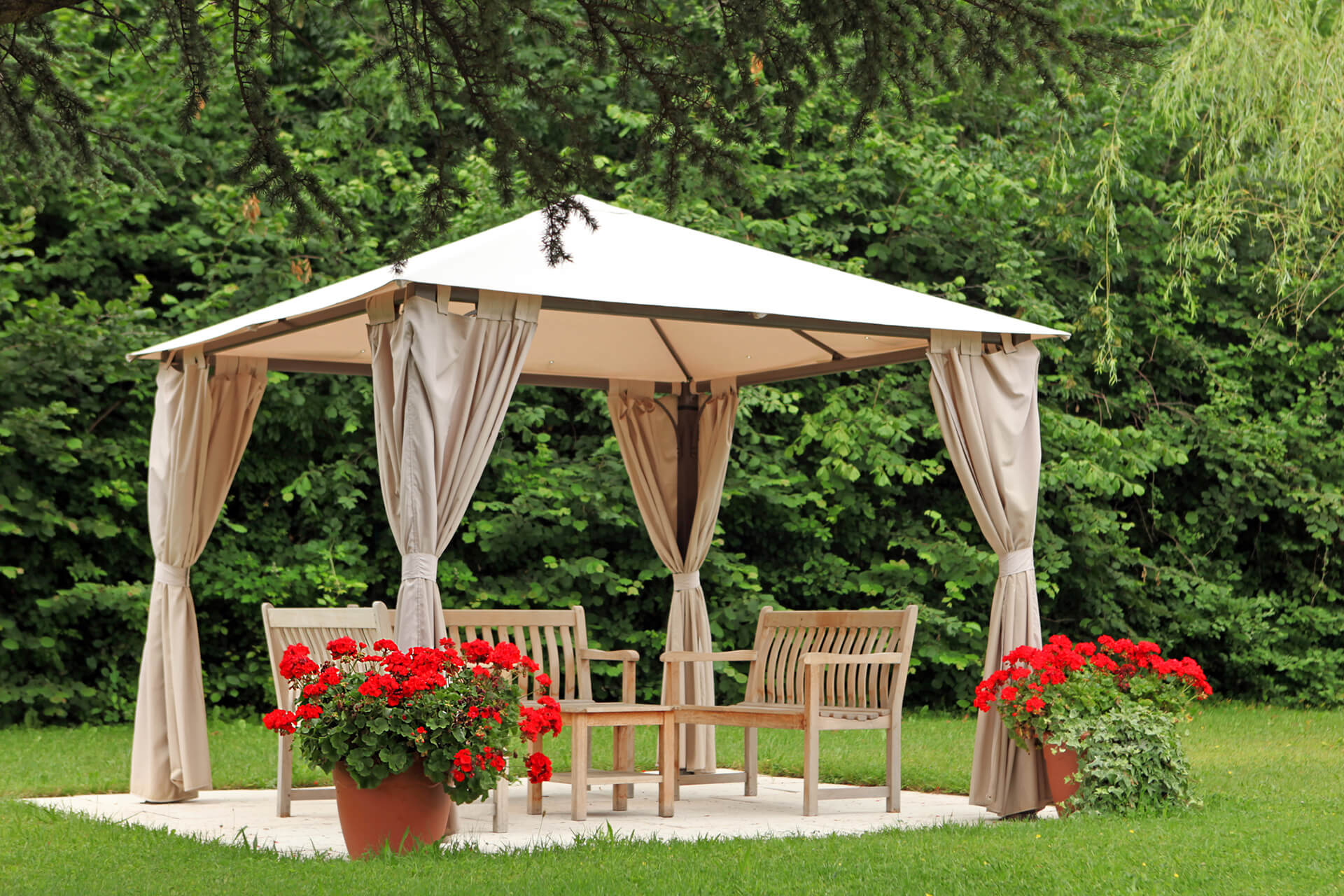 The Latest Trends in Gazebos You'll Love
Gazebos are becoming increasingly popular as outdoor living spaces take over many grassy backyards. They provide a shaded, sheltered spot to relax or entertain guests, and many people find them much more attractive than traditional decks or patios. You can choose several different styles and materials, especially cedar wood or pressure-treated lumber. Wooden gazebos are the most popular type, but many are switching to the metal and vinyl options because they require less maintenance. Gazebos over your hot tub are another rising trend so that light rain, high UV sunlight or snow doesn't interfere with your soak time. Open air gazebos pair nicely with portable and safe pellet grills for all-weather outdoor cooking.
FAQ
What Is a Permanent Gazebo?
We haven't expanded into permanent gazebo sales yet - but we know a bit about them! A permanent gazebo is a pagoda-like structure typically found in public gardens or parks. It can also be freestanding or attached to a house. Permanent gazebos are usually made of wood, metal, or stone and often have a roof to protect against weather elements. These gazebos can be used for various purposes, such as providing shade on a hot day or as a gathering place for events like weddings and parties.
Can You Build a Gazebo Without Planning Permission?
You can build a permanent gazebo without planning permission, but it's always best to check with the City of Calgary to see what restrictions may apply. It could be that your chosen location affects utility lines, so you will need to submit detailed plans and receive approval before construction can begin. Our gazebos are lighter duty, however, and don't require digging.
Is a Gazebo Good for Rain?
A hard-topped gazebo (open, closed, or semi-closed) from Paradise Bay can provide good protection from the rain. The gazebo's roof will also affect how well it protects against rain. In storms, moisture doesn't just fall straight down. They're typically best for light rain.